Runestake is the most rewarding Runescape Casino with the largest community. Every day over 750b is wagered on Runestake's provably fair casino games. Users are able to deposit and bet OSRS Gold, Runescape 3 Gold, Visa, Mastercard, Paypal, Bank Transfer, and Cryptocurrencies such as Bitcoin, Ethereum, & Litecoin.
Runestake opened in December 2021 with a never before seen Duel Arena replacement game. Players are able to stake in-game vs other players or hosts and wager their OSRS and Runescape 3 Gold just like the old duel arena days. Runestake has a sophisticated software that tracks players dueling each other in game. In essence it mimics the old duel arena and it has the lowest industry standard house edge on any Runescape Casino at 1%. This game is by far the most innovative form of Runescape Gambling that anyone has ever seen before.
Runestake is dedicated to innovating the Runescape gambling scene and is currently in production of multiple provably fair casino games such as Blackjack, Crash, Coinflip, Case Battles and more.
Currently Runestake offers players 3 Runestake original games:
• Staking
Runestake's staking game is the lowest house edge casino game in Runescape history. With a 1% tax, the duel arena game allows players to PvP other users on the site and stake in the game of Runescape just like before the duel arena got removed. Nothing is more thrilling than being able to wager your Runescape Gold vs someone else in an RNG driven stake. The duel arena never left it was just given to Runestake instead.
• Slide
Runestake's slide game is a modern take on a classic Roulette game. Wager your OSRS and Runescape Gold on a roulette wheel and pick from three outcomes, Mage, Range, and Swords. In this innovative Roulette game you can win up to 14x your bet and make insane profits on predicting where the wheel will land. Slide is one of the most thrilling games for users and is the most played Runescape casino game because you are able to play with your friends and make profit together.
• Chest Unboxing
Runestake took a game that is played by millions of people worldwide and revolutionized it to be a refreshing new game enjoyed by the Runescape player base. Players are able to choose from a wide variety of Runescape related chests and win up to 500x their investment. Located inside the chests you can win massive prizes that are very familiar to the Runescape players such as Dragon Claws, Elysian Spirit Shields, 3rd Age Druidic pieces, Twisted Bows, and more. Some of the chests that you can unbox have jackpots of up to 50 Billion OSRS Gold or 400 Billion Runescape 3 Gold. Purchase the chest, roll the wheel, and multiply your investment and make serious Runescape Gold.
Runestake Unique Features:
• Rewards – Runestake's rewards go above and beyond and rival even the most popular online real money casinos. Runestake offers 10% rakeback on every single bet that a user players on the site. On top of the rakeback, players also unlock cases & caskets as they level up on Runestake. Players unlock a 3 cases for every level they gain after level 2 and they also unlock 1 casket for every 10 levels starting at level 10. These cases and caskets are completely free to open and players can open them automatically upon leveling. These rewards are very similar to the chest unboxing game in that players can massive prizes as they level up. In the highest rewards casket players can spin the wheel for a chance at winning 230 Billion OSRS Gold or 2.1 Trillion Runescape 3 Gold. The minimum prize in this casket is 12 Billion OSRS Gold. So even if the the bets you place don't go in your favor, you are constantly earning rewards and stacking up your Runescape gold.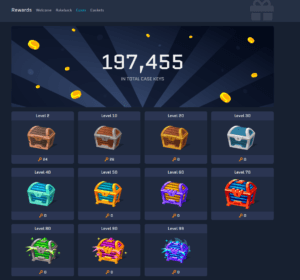 • Refer A Friend
Runestake's refer a friend program (Affiliate System) is a way for Runescape players to earn passive Runescape Gold. Invite your friends to the platform with the link located in your affiliate dashboard and for every bet they place on the website you will earn 10% of the house edge on their bets that you can instantly convert into Runescape gold. The more people you refer, the more Runescape gold you can earn. Affiliates are treated extremely well on Runestake because they are the backbone of the community. What's a better way to earn passive Runescape Gold without having to lift a finger?
• Instant Deposits & Withdraws
Before Runestake launched the Runescape Gambling scene was very lackluster. Websites like Runechat, Rune365, and Runebet are fast on deposits but once players win large they hit the slow mode button on withdraws. Websites like this try and take advantage of their players and prevent them withdrawing in the hopes that they lose their money back to the casino. This is incredibly shady in the scene and Runestake launched to provide Runescape players the ability to bet their Runescape Gold and claim their earnings instantly without ever attempting to deceive players. Runescape casinos have to operate under these two extremely important principles: Fair & Fun. Runestake is the only Runescape gambling website that operates with those two in mind.
On Runestake you can deposit with OSRS Gold, Runescape Gold, Visa, Mastercard, Bank Transfer, Paypal, and various Cryptocurrencies in order to get Runestake tokens that you can bet and win Runescape gold. Whenever you are ready to cash out your profits you can instantly convert these Runestake tokens to OSRS Gold & Runescape Gold.