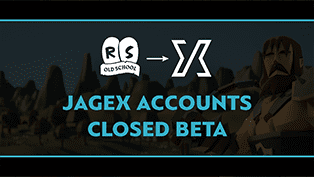 In January we launched the Closed Beta for Jagex Accounts, which brings with it improved account security. Initially, we limited the Beta to Player Moderators as part of our invite-only 'phased release' approach – but we're now ready to extend the invitation to more players!
Today's expansion will see a select number of players invited to the Beta, and once we're happy with how the expansion is going, we'll continue inviting more and more of you until it's rolled out to everybody. Invited players will receive an email titled '[YOUR CHARACTER NAME], Jagex Accounts are here!' and an inbox message titled 'Jagex Accounts Closed Beta Invite' which contains instructions for accessing the Beta.
Rather than rehash what we've already said, we'll briefly explain what Jagex Accounts are and why we're using them to bring you updated account security. That said, please do revisit the original blog to learn more about Jagex Accounts in greater detail.
Account security is a major concern for players and a core focus for us. The current system has reached the end of the road as our security solution. The new Jagex Account system will let us provide you with increased security, stability, and sustainability using modern, industry-standard technology. We'll be able to keep bringing you more Old School for years to come without you worrying that your hard-earned stats and equipment will fall into the hands of hackers.
Jagex Accounts will use a different multi-factor authentication (MFA) integration to current RuneScape Accounts. When setting up MFA for your Jagex Account, you'll be provided with 10 backup codes to use as your second factor if you lose access to your authenticator device. These codes will only be shown once and can only be used once each – so be sure to record them safely and securely!
To import a character to a Jagex Account, you'll log in to that character and enter your authenticator details as usual. Once a character has been imported, the MFA for the associated RuneScape Account will no longer work – you'll need to use the MFA associated with your Jagex Account.
You can still play multiple characters at once and make progress simultaneously, assuming all those characters are linked to your Jagex Account.
In short, the Jagex Account and Launcher is how we're going to provide you with strong, modern account security – as well as an easier way to log in and manage multiple characters!
How To: Upgrading To A Jagex Account
This bit of the blog is mainly for those who have been invited to upgrade to a Jagex Account. We've prepared a handy how-to video that shows you:
Upgrading to a Jagex Account
Managing your Jagex Account settings
How to import additional RuneScape characters to your Jagex Account
Infographic: How-to Jagex Accounts

That should be all you need to know! As we see more questions, feedback, and issues we'll update this blog. You can also check out the 
original blog
 for more information, and Player Support have even put together a handy FAQ which you can visit by clicking the link below.
You can discuss this update on our 
official forums
, the 
2007Scape subreddit
, the 
Steam forums
, or the community-led 
OSRS Discord
 in the #gameupdate channel. For more info on the above content, check out the official 
Old School Wiki
.
Mods Arcane, Archie, Argo, Ash, Ayiza, Boko, Bruno, Chilly, Crystal, Curse, Daizong, Dylan, Ed, Elena, Errol, Fed, Gecko, Gizmo, Goblin, Grub, Halo, Hend, Hornet, Husky, Jalo, Jerv, Keyser, Kieren, Kirby, Kurotou, Lenny, Light, Mack, Manked, Markos, Maylea, Meat, Moogle, Morty, Nin, Nylu, Other, Pumpkin, Redfield, Regent, Roq, Ry, Sarnie, Shroom, Sigma, Skylark, Sova, Squid, Starry, Stevew, Surma, Sween, Tide, Titus, Torrance, Tyran, Veda, Vegard, West & Wolfy
The Old School Team.